En la sudcalifornia agreste, rural y espléndida. 
La naturaleza, nos dice Krutch - escritor y naturalista estadounidense - dio a Baja California casi todas las bellezas posibles en un clima seco y cálido, elevadas montañas, llanos desérticos pero con cactus que florecen, aguas azules, islas donde anidan multitudes de aves, así como numerosas playas, tan estupendas y atractivas, como las mejores del mundo.
Todo esto ha permanecido casi totalmente pristino justamente porque muy poco ha podido estropearlo eso que llamamos progreso. (Joseph Wood Krutch, Baja California and the GEOGRAPHY OF HOPE. 1967).
A pesar de que  han pasado 50 años de esta reseña, sudcalifornia sigue manteniéndose así, hermosa y valiente porque el progreso si ha estropeado de alguna forma el medio ambiente. Sin embargo, en Baja California Sur aún quedan lugares y playas donde no te encuentras con nada más que con la naturaleza y es nuestra responsabilidad interactuar y cuidar de ella para que se recupere y se siga manteniendo así.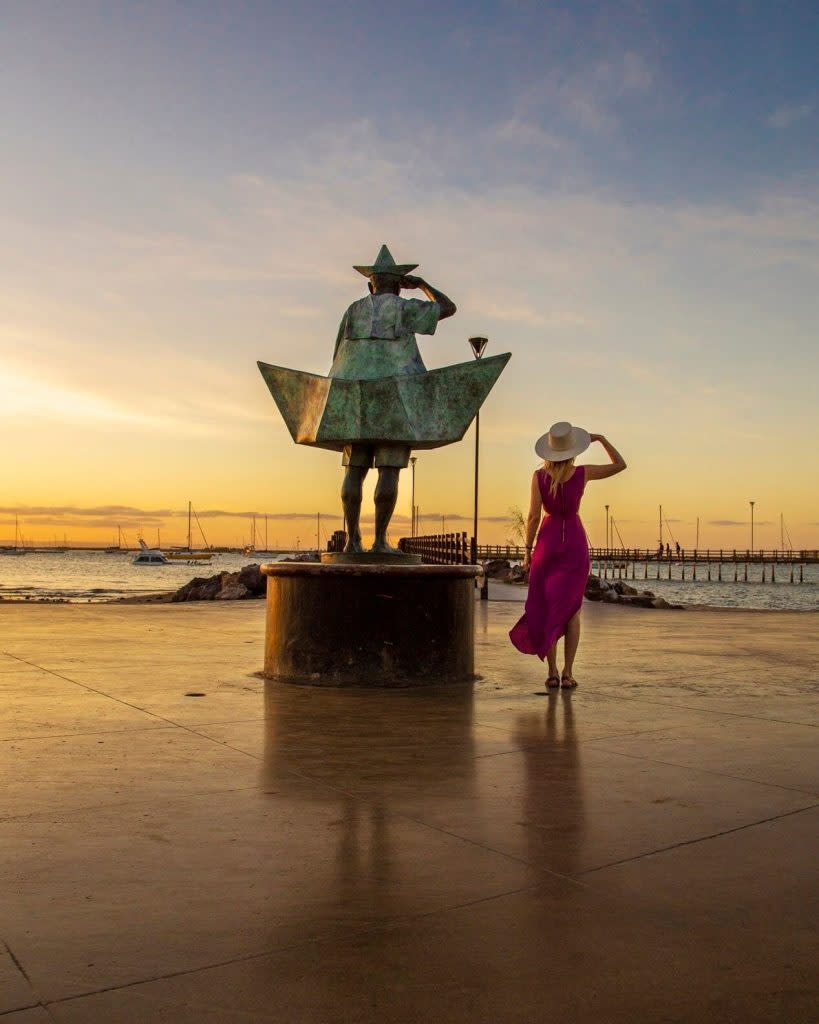 También vale la pena hablar de otra de sus grandezas: su gente. Mujeres y Hombres de mar, pata salada como cariñosamente se llaman, amables, gentiles. La gente es pacífica como el nombre de la ciudad. Citó un extracto de un libro (Sudcalifornia en la leyenda y en la historia de Manuel Torre Iglesias)  que describe certeramente a los oriundos de la paz :
"Las gentes son amables y hospitalarias. Cuando se descubre una fechoría, se acostumbran a exclamar con cierto orgullo: "eso es cosa de fuereños" y casi siempre tienen razón.
Los paceños son muy celosos de su albergue. Cuando un viajero se aquerencia con el buen trato, lo invitan a probar las ciruelas silvestres del Mogote, aciduladas y sabrosas, - "El que come ciruelas del Mogote, ya no se va de aquí ", acostumbran a decir con frecuencia y debe de haber algún hechizo, por cuanto son muchos los que las probaron y afirmaron las verdades del pronóstico". 

La mayoría de sus planes incluyen familia, amigos,  playa, acampadas familias, dunas, pesca, desierto, carnita asada, tacos de pescado, ceviche, tortillas de harina, ciruelas, mangos, pitayas, olas,  mar,  ver atardeceres multicolor y esperar la llegada de los barcos con tranquilidad, colorados hasta los huesos de tanto sol y valientes corsarios de un puerto que ha visto llegar por años piratas y extranjeros a sus aguas y tierras. 
Gracias a ellos Sudcalifornia es lo que es, y a pesar que hoy en día los habitantes de estas tierras son mezclas de paceños de antaño y extranjeros que probaron las ciruelas y otras delicias e hicieron este su hogar;  todos deberíamos ir por un mismo camino, empujando hacia el mismo lado, hacia un progreso por medio de un desarrollo amigable con el medio ambiente, conservar las bellezas naturales y seguir trabajando por lo que nos une y hace felices, esta tierra bella.