Positioned within the Sea of Cortez lays Espiritu Santo Island. Formed from black lava and red desert limestone, the island sits in stark contrast to the turquoise water that surrounds it. Espiritu Santo Island is a CONANP designated Natural Protected Area and a UNESCO World Heritage Site. The 81 square kilometre island is inhabited by all sorts of flora and fauna along with dozens of multicoloured fish including angelfish, wrasse, trumpetfish and parrot fish, which can be found in the waters below. Of course, the most famous of all residents on Espiritu Santo Island is the colony of sea lions that live along a rock formation called Los Islotes off the northern tip of the island.
The beaches along Espiritu Santo Island are striking as white sand mixes with a vibrant blue. There are seven beaches to stroll, lounge or swim from and 11 hiking paths for those who choose to view the waters from above. The rocky cliffs fall flat to a calm sea with only gentle tides. Kayaking aficionados will love exploring the coastline, with some tour operators even offering multi-day kayak tours around the entire island, setting up camp along a new beach each evening. Land lovers may enjoy birdwatching. Winged residents on the island include everything from turkey vultures to pelicans, and blue-footed boobies to hummingbirds. Photo credit: Peter Krogh via Todos Santos Eco Adventure
Where to Stay: Camp Cecil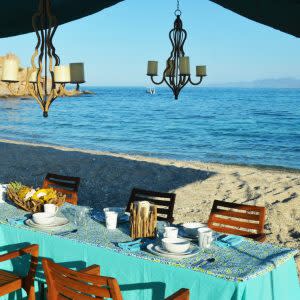 Camp Cecil can be found on Espiritu Santo Island. Open from November to April, this "glamp-site" offers the ultimate in luxury. Beautiful walk-in canvas tents surround cushy beds made with soft linen, bedside tables, rattan arm chairs, and teak lanterns – all the amenities of a 5-star hotel. A retreat designed to transport guests away from the hustle and bustle of everyday life, this is the perfect place to disconnect and reconnect. With no wifi or cellular service, guests can enjoy a pure digital detox with plenty of outdoor activities fill their days. Kayak, snorkel, paddleboard or swim in one of the most diverse waterways in the world, the Sea of Cortez, home to 39% of the world's marine mammals and over 890 species of fish.
Dine at beachfront long tables at the Espiritu Xantus Café where the on-site chef whips up gourmet meals for breakfast, lunch, dinner – and happy hour. Spend the days at leisure reading, sipping on margaritas, discovering cave art, or hidden lagoons. The bilingual guides can accommodate and accompany guests with activity requests. The camp has a number of well-deserved accolades including topping National Geographic's list of luxury camping adventures and receiving a Sunset Magazine Travel Star Award (2017). Photo credit: Tourism La Paz / Todos Santos Eco Adventure
What to Do: Swim with Sea Lions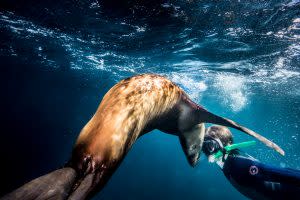 One of the most popular activities in La Paz is swimming with sea lions, specifically the colony that inhabit a small rock formation called Los Islotes on Espiritu Santo Island. Throughout the fall and winter months curious pups splash in the calm waters near the shore while moms and dads keep a close eye on them from the rocks. This is one of the only places in the world where sea lions and humans have friendly encounters. Orcas and other predators don't travel to this area, so the sea lions have no reason to be shy.
Snorkelers and divers alike can swim amongst the colourful fish and reefs found around the rocks with an occasional pop-in by the pups. One may even jump on a snorkeler's back as it did for a National Geographic producer! Photo credit: Erika Peterman via Todos Santos EcoAdventures
Learn more about Espíritu Santo Island and other tour operators in this link.