Located 45 kilometres south of La Paz, El Triunfo is an old mining town perfect for visitors looking to take a step back in time. Once home to over 10,000 miners, recent census data indicates the community now consists of just over three hundred inhabitants. In the mid-19th century miners from across Mexico and the United States came into El Triunfo looking for gold and silver which had been discovered in the southern mountains. In its heyday, the town was a cultural hub where acclaimed concert pianist, Francisca Mendoza made her home. It is said that there were more pianos than people in El Triunfo at one time. Pianos and other musical instruments were brought into the town from across the globe. As a result, one of the most visited attractions in El Triunfo is the piano museum.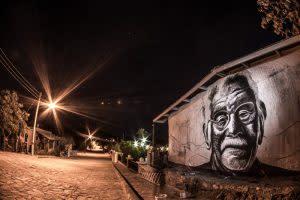 Thanks in large part to The Color of Memory, the colonial buildings in El Triunfo have been brought back to life with a series of murals depicting the culture and history of the region.
In addition to the historic buildings, visitors can also wander through newly opened cafes, shops, and restaurants like Bar El Minero which was once a laboratory for the mines. Sticking close to it's roots, another must-do in El Triunfo is walk through the old mining grounds. Wander amongst the towering smokestacks, the largest of which is "La Romana" which stands 35 metres tall and is rumoured to be designed by Gustav Eiffel, of Eiffel Tower fame.
No visit to El Triunfo is complete without a visit to the cactus sanctuary, located just outside of town. This 6-hectare garden sanctuary is home to some of the rarest and most endangered cacti in the world. Here you will find the Pereskiopsis cacti, one of the earliest known versions of the species which still produces leaves. The best time to see these leaves is after the rainy season in August.